Exuma's swimming pigs are a unique experience! A real #Bucketlist item that is added more and more on people's 'Must Do' lists.
One such list that these lovable guys have been added to is the UK based ' Deal Checker' travel site http://www.dealchecker.co.uk.
The Site recently added Exuma's infamous Swimming Pigs onto its Travel Inspiration blog with a cute picture to highlight their selection.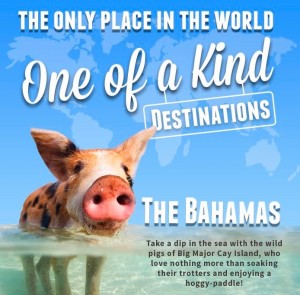 The blog post highlights other fascinating 'One of a Kind Destinations' around the world, but seem like our little friends made the top of the list for this month!
See the full blog post here!  http://www.dealchecker.co.uk/blog/2015/12/08/the-only-place-in-the-world-one-of-a-kind-destinations/