Director Charlie Smith appears on Live 5 News in Charleston
Director of the award winning "When Pigs Swim™" documentary, Charlie Smith of Earth Beat Films ( http://www.earthbeat.com) was present at the screening of the documentary "When Pigs Swim™" at the Charleston International Film Festival that took place on November 6th
In the lead up to the festival, Charlie Smith was invited to participate in the newscast the evening before the screening and as per his words, "It was a fun interview with Live 5 News and Lisa Weismann of Live 5 news team"
When asked how the showing at the Charleston Film Festival had gone, Charlie told us that the screening was great. He thought that the interview had no doubt brought out a number of fans of the Swimming Pigs and people who were curious to know more.
'When Pigs Swim™' was screened later in the Fort Lauderdale International Film Festival on November 11th at the famous Cinema Paradiso .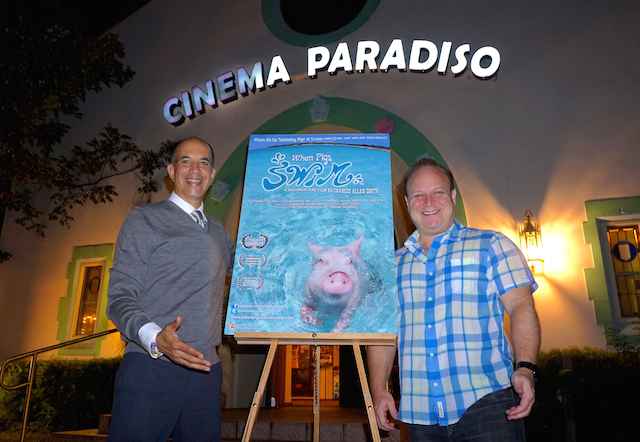 There was no doubt that the swimming pigs seem to generate a buzz at all the film festivals where the documentary has been screened.
Charlie commented, "Everyone who realized that I was the director of 'When Pigs Swim™' always have a big smile on their face and say they really want to see that documentary. They all can't beleive that these pigs really swim. They are always genuinely interested in the pigs and about how they got there and if they are the only swimming pigs in the world. And of course all the ohh and aaahhh over the beauty of the water and beaches of Exuma, Bahamas.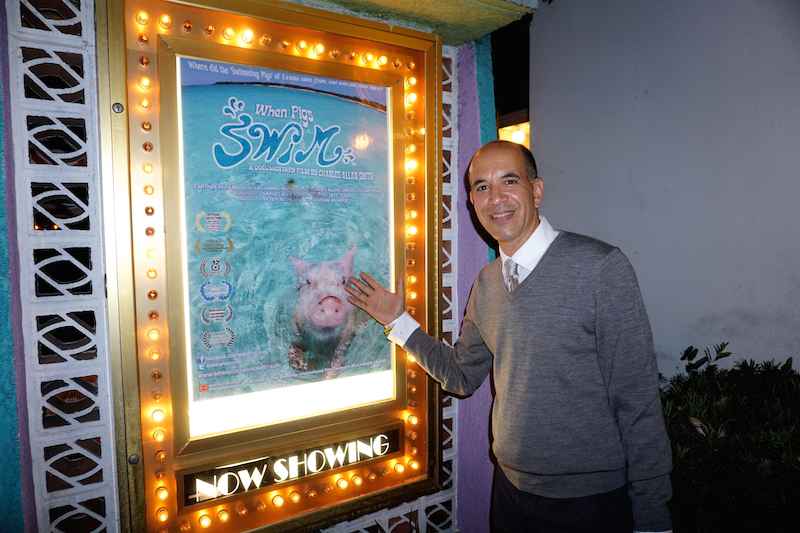 The Fort Lauderdale brought out a good crowd as well. There were more bahamians attended because of the partnership with 'When Pigs Swim™' has with the Bahamas Tourism Board. The best part was when penelope the potbelly pig came on stage to represent her swimming cousins in Exuma, the crowd went wild and couldn't get enough photos of her.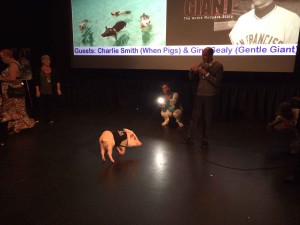 Ending the night was a good old traditional Junkanoo Rush that swept everyone away to a great ending party outside under the stars with Sands Bahamian Beer and the ever traditional Conch Fritters