Travel Blog by : Rose Thomas
There is a little island in The Bahamas, inhabited entirely… by swimming pigs.
There's some disagreement as to how the pigs came to live on the island. Some claim pirates left them there, intending to return and eat them. Some say they swam there themselves (tenuous). Others say the government dropped them off to lure in tourists (quite likely, genius if true).
But whatever the reason, these little piggies have life sorted!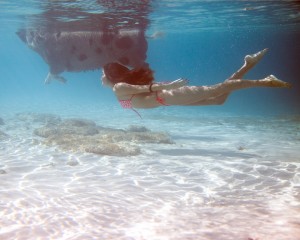 They lounge on the warm sands all day, soaking up the sun and watching for boats filled with curious tourists.
Tourists who inevitably bring food.
The little swines keep an eye on the horizon and as soon as they see you turn into the cove, they swim out to meet you.
Plopping into the ocean with as much grace as a pig can manage, their trotters cut through the water as they glide towards you with alarming speed.
There's something rather surreal about feeding a pig looking up at you from turquoise waters!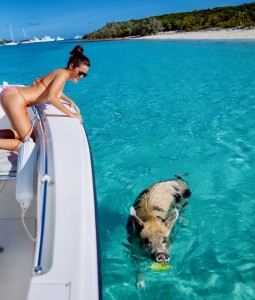 If you hop in the littles will swim out to meet you and snuffle for any snacks you might have brought with you!
When I was little I had a robotic pig teddy. He was soft and pink, but when you turned him on he'd walk forward and his little snout with go in and out.
I would lie on the floor and kiss his nose, he'd kiss me back and I'd dissolve into giggles.
He was called Kissy Pig (for obvious reasons) and I loved him.
Essentially, my entire life had been leading to this moment…
When I got to kiss a pig on his snout, and tickle his chin, while we floated in crystal clear waters.
Bizarre!  Wonderful, but bizarre.
We took along cabbage to feed the hogglets. Mostly because it's easy to transport from the boat to the shore, and you can peel off layers for them, rather than spending your load all in one go! They loved it.
You're better off going nice and early in the day, before the tour boats arrive. Then you can have the place to yourself. Just you and the piggies!
Of course the benefit of staying on Staniel Cay is that you can pop back as many times as you like. Just in case, like us, one swim with pigs isn't quite enough for you!
Though I might have hogged this guy a little! If you make it down to The Exumas, a trip to Pig Island is a must. It had been on my bucket list for a very long time, and it was even better than I could have imagined.
I must admit I squealed like a piggy myself when I saw them swimming out to meet us! The very best birthday pressie I could have asked for.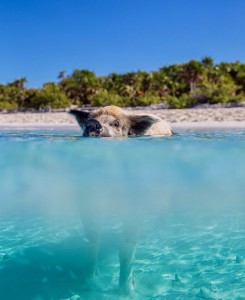 See the full Blog here