The Swimming pigs feature in photo contest in one the world's biggest travel trade shows, the ITB in Germany!
Kathleen had an amazing time on the Exumas this last January, 2016!
Exuma and the swimming pigs had been on their 'Bucketlist' for quite some time.
Having been born in in a tiny village, surrounded by farmers, she was used to pigs that prefer having fun mud pools over clear, turquoise water.
But things were very different in The Bahamas!
A long awaited trip to Pig Island brought on a photo frenzy with numerous fun shots with the lovable Swimming Pigs of Exuma!
One of Kathleen's pictures was even selected for 2016's "best moments" photo contest in the world's leading travel trade show, the ITB Berlin in Germany .
You can see the photo featured on ITB's Facebook page where her picture received a lot of THUMBS UP!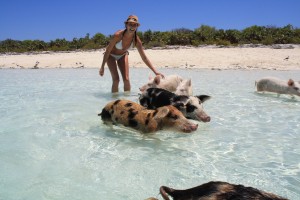 Swimming Pigs in Paradise… What's NOT to like !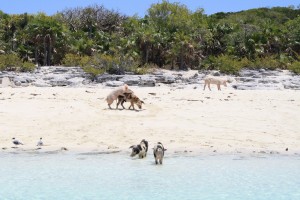 Kathleen snapped this one of the wild piggies going a little wild, in the wild
Send us some of your fun Swimming Pigs photos from your travels! Write us about your experience so we can share it here with the world!
Email Picture and Blog to
[email protected]
Follow us on Twitter @WhenPigsSwim
Follow our Exuma Instagram Account @exumadream.