'When Pigs Swim™' wins BIFF Oscar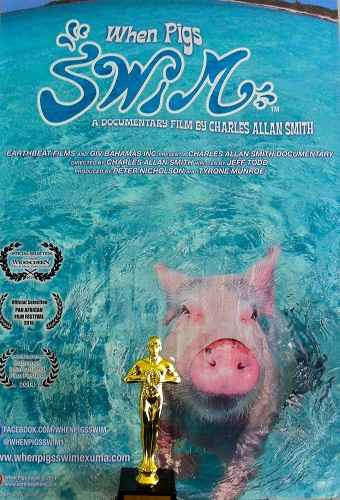 The internationally acclaimed film 'When Pigs Swim™'  has taken home top honors back where it all started, winning the "Haven" Oscar for best short documentary at the Bahamas International Film Festival (BIFF).
The 15-minute short, exploring the history behind Exuma's famous swimming pigs, took home the hardware due to its originality and the explosive popularity of the film's stars.
You can watch a preview of the film at www.whenpigsswimexuma.com.
Charlie Smith, the Director of "When Pigs Swim™", said it was humbling to receive recognition back home in the Bahamas, as Exuma's swimming pigs continue to make waves across North America.
"This [Bahamas] is where it all started. This is where the pigs are from, and we had our world premiere at BIFF back in December," Smith explained. "Now we're excited to keep on pushing to new markets."
Since the screening at BIFF, Exuma's swimming pigs have been making waves at other film festivals and proving to be imposing ambassadors for Exuma and the Bahamian tourism industry at large. Back in January, "When Pigs Swim™" aired at the Pan African Film Festival (PAFF) in Los Angeles. In cooperation with the Ministry of Tourism, "When Pigs Swim™" was a standout once again.
"I wish I could say people came out to see me, but we all know the swimming pigs are the real stars," Smith added.
Following Los Angeles, Exuma's swimming pigs next made a huge splash at Miami's Widescreen Film & Music Video Festival, organized by Nassau native Jarrod Knowles. The film made international headlines when Smith carried Penelope the Pig, a cousin to the swimming pigs in Exuma, down the red carpet. Once again, the Ministry of Tourism came out to support the swimming pigs.
"Penelope was calm as can be. I think fame suits her well. From the time we hit the red carpet to when we left, people never stopped taking photos and doing interviews with us," he added.
"There is just something about these pigs that connects with people."
However, the pigs' popularity did not begin with this film.
For years, Exuma's swimming swine have been featured in magazines, newspapers, music videos and countless social media accounts around the world.
So what's next for these superstars?
While Smith couldn't go into details, he said "When Pigs Swim™" is slated to appear in a few more film festivals in 2015, and may even make it over to Europe. Whether the pigs can take time out of their busy schedule for an encore on the red carpet remains to be seen.
"When Pigs Swim™ " was produced by Tyrone Munroe and Peter Nicholson, the principals of GIV Bahamas Inc. and is a trade mark of GIV Bahamas Inc.