Swim with the pigs in the Bahamas: How domestic swine became big business for the paradise islands
BY: Steve Dinneen
On 9 September the ocean around the Bahamas' Long Island and the Exumas vanished. Where there should have been endless stretches of aquamarine, there was mile upon mile of muddy grey sand, flecked with seams of stringy kelp, all set against a foreboding backdrop of slate-grey cloud.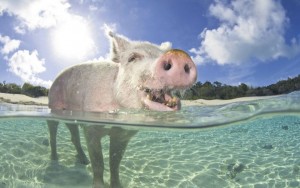 Sandwiched between hurricanes Irma to the west and Jose to the east, water from these paradise islands was sucked away, feeding the storm surges that decimated other parts of the Caribbean.
The Bahamas escaped virtually unscathed, and when people woke up the next morning, the ocean was back where it's supposed to be and the sun was shining, as if nothing had ever happened.
A month later in the Exumas, the only sign of the near-miss are the wooden boards still hammered over the windows of the pastel-coloured houses. It's hot and sticky and tranquil. Sitting in a boat off its east coast, watching domestic pigs glide gracefully through the ocean, it seems unthinkable that it were ever any other way.
Wait, pigs? In the ocean? Ocean pigs? Oh yes: here, you will find big, fat pink pigs, kicking their little trotters through the surf, nuzzling up to the side of your boat on the promise of a turkey sausage.
If you're a millennial, the sea-pigs of the Bahamas will probably be old news. They're Insta-famous, adorning the social networks of countless "influencers", who know a sure-fire 100,000-like photo opportunity when they see one. If you're a little older, however, the pigs come as a surprise.
Initially, they were banished to an island to keep them away from the tourists, pigs being notoriously smelly and prone to defecating all over the place. Nobody wants to see that. So they were sent packing, and every day a man would chug out on a little boat to feed them. The pigs, being clever little swines, began to associate the sound of the motor with food, and would swim out to get the prime cuts before the other porkers could get a look-in.
Eventually, someone decided that, actually, this is exactly what tourists want to see, and now the pigs are spread over several islands, with people paying good money to sail out and hand-feed them.
We're not talking little pigs, either: the biggest among them must weigh close to a tonne, with testicles the size and shape of human brains. They're friendly enough, but they'll swim straight through you to get their chops around a sausage. On their island – White Bay Cay – piglets scurry around your feet, and the adults (both human and pig) don't seem to mind you picking them up.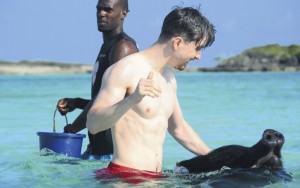 It's not just pigs, either. Bahamians have made a industry out of taking tourists to islands and letting them feed things. At first glance, the nearby Leaf Cay, which used to be owned by Nicholas Cage (at this stage, nothing would surprise me about Nicholas Cage), appears to be deserted. But as the boat approaches, the island's residents gear-up for the daily feed. Iguanas. Dozens and dozens of rock iguanas, ready to gorge on buckets full of lettuce.
These red-frilled lizards are listed as "very endangered", existing on just a handful of tropical islands, although they appear to be doing just fine here. The sight of maybe a hundred of these three-five foot beasts swinging their hips over the rocks is one you won't forget in a hurry, and if you come armed with food, they're happy to let you stroke them. When the buckets are empty, they turn and slink back into the undergrowth.
The third thing you can feed – and probably my favourite – are manta rays. For this, it's best to head to Stocking Island, where you can while away an afternoon, or a week, or the rest of your life, at Chat 'N' Chill, a beach-bar so laid-back that from a distance you might assume it were dead.
Here you can get drunk on signature Bahamian cocktails, like the "banana mama" (rum, grenadine, orange juice and pineapple juice) and "sky juice" (coconut milk, condensed milk and gin), both of which are so blood-curdlingly sugary you can expect a truly life-affirming hangover the next day.
But before you get too sloshed, pay a visit to the shack on the beach, where live conch (the things that live inside those lovely shells that your gran probably kept in the loo) are extracted, chopped into cubes and served in lime juice with onion, tomato and peppers, a bit like ceviche. Conch (pronounced "konk") have a meaty texture that's a world away from soft shellfish like scallops or oysters.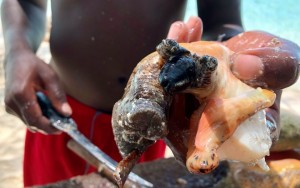 And if you ask the salad-maker nicely, he will donate some conch guts, which you can then give to the gigantic manta rays who have learned to hang out here for a free feed. They will swim right up onto you if you're not nervous around them, nibbling away at conch guts with their weird little ghost faces and generally being adorable.
Chat 'N' Chill also has a great selection of grilled fish and meats, although for me, the food is slightly overshadowed by Santana's Bar & Grill, on the south end of the main island (there are more than 700 in the archipelago). This is the restaurant where famous wife-beater Johnny Depp used to hang out while he was filming Pirates of the Caribbean, and you can see why.
The fried lobster with rice 'n' peas and macaroni cheese (everything in the Bahamas comes with rice 'n' peas and macaroni cheese, the latter being cooked until it's a delicious cheesy paste) is glorious, and the view out to the ocean, where yellow lemon shark glide silently past, would have been left out of the book of holiday cliches for being too damned beautiful.
Next door is Ma's Bakery, where 86-year-old Ma – who boasts 38 grandchildren – gives away free hugs alongside the baked goods (which you have to pay for). To get home you could book a cab, but this i
s the kind of island where you can still hitch-hike and not end up on Crimewatch, so do that instead and pretend you're in a Jack Kerouac novel for the 20 minutes it will take to get home.
And "home" should be the gigantic Sandals Emerald Bay. Now, hear me out: I know all-inclusive resorts aren't always considered the height of sophistication, with the trend being to stay in a corrugated steel hut with a local mining community or some such. But Sandals is actually rather lovely. For a start, there are no kids here. Just imagine that: no kids. At all. Blissful.
And there's something wonderful about rolling out of bed at 11am, crashing into the sea like an exuberant walrus and then ordering a couple of rum and cokes to take the edge off the hangover from all the gin and condensed milk you drank the previous evening. All of this without having to bring a wallet, because it's all inclusive. That also goes for the 11 restaurants too, and there's also a Greg Norman-designed golf course, tennis courts and scuba diving, for those who aren't satisfied lounging on a beach reading and getting sozzled like the rest of us.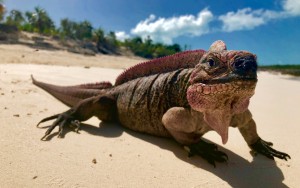 Sandals is also a great location from which to explore the local history, with little tombs and monuments and ruined old prisons lurking down leafy paths, which require a guide to find. You should also bone-up on your local history, which involves centuries of slave ownership, uprisings and, eventually, emancipation. There are an inordinate number of people with the surname Rolle, after a former land-owner gave the name to his former slaves along with the land they once worked.
Away from the resorts, the Exumas aren't exactly glossy; this is no manicured paradise like the hotel-owned islands of the Maldives. The rusting skeletons of machinery lie by the roadsides and anything left alone for more than five minutes is reclaimed by the verdant blanket of greenery that covers the island. It makes Exumas feel lived-in, a place you can really explore, even get lost in, but then still find your way home before you have to call the emergency services.
And you get to feed pigs. Honestly, it had me at "pigs".
Read original article here.