The world's weirder snorkeling spots
We made it onto CNN's website as the explore they world for the odder places to visit during the summer vacation period!
The #SwimmingPigs made it right up there in the # 2 spot!!
We Rule!
The article excerpt below:
Swim with the pigs: Bahamas
The only permanent residents on uninhabited Big Major Cay in the Bahamas, feral pigs have become the ultimate beach bums, sunning themselves on the sand, then dashing into the blue waters of the Exumas.
It's not clear how this family of some 20 pigs and piglets came to make their home on a deserted island; legend has it that their ancestors escaped a long-ago shipwreck, but today, they survive by drinking from the three natural springs on the island and eating treats dropped by visitors and sailors on passing boats.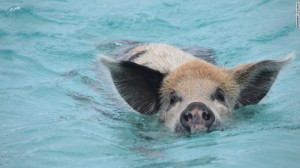 Resident pigs on Big Major Cay in the Bahamas regularly take to the water.
Videos of these loveable, friendly porkers have gone viral, and you can now swim with them, getting into the warm, tropical water, strapping on a snorkel to meet them underwater, snout to snout.
Outfitters on the Exumas offer the trip for about $110.
Make sure to read up on CNN's other fascinating suggestions
here.